Seminar: THE SCIENTIFIC AND PROJECTED IMAGE OF ARCHITECTURE, CITY AND HERITAGE
INTENSIVE SEMINAR ON PHOTOGRAPHY AND PHOTOGRAMMETRY, FOR SCIENTIFIC AND DOCUMENTARY REPRESENTATION OF ARCHITECTURAL, URBAN, ARTISTIC AND NATURAL HERITAGE
CONCEPT
With the reforms introduced in the EHEA and the reformulation of the degrees, university training has had to be refocused on generalist training, rather than on techniques of professional application, which are rapidly evolving and which, due to their specificity, had no place in this system.
For this reason, the teaching of specific professional techniques – photogrammetry, 3d design, photography – takes place inside and outside the university structure, but it is in other smaller institutions where the bulk of society can often be trained in artistic and professional disciplines with subsequent job opportunities. The professional training of middle and upper levels in specific techniques forgets, due to the limited conception of their teaching, the deep foundations that the University is for professional development.
Photography, representation, drawing and research can be apprehended in various teaching contexts and will be used in all professional fields, but only the University and the teaching quality based on the search for excellence, can consider the technique with the transcendence that this knowledge of applied skills deserves.
The objective of this course is to generate a teaching space in which to learn advanced techniques of documentary photography and representation can be implemented from the most varied fields.
PROPOSITION
The specific techniques of photographic documentation, estate planning and architectural photography generally require specific sections of higher education or university training, but due to their extent they include many other subjects and require specific preparation. If someone wants to learn photography, they will not want to study a whole degree in Fine Arts, since it is only a small part of this generalist curriculum that interests them, those interested will seek to learn these specific techniques.
TEACHING SENSE
The teaching objective of this intensive seminar will be to offer professional training in documentary and photogrammetric techniques related to architecture and heritage (in all its variants, although of direct application in architectural, urban, artistic and natural fields, easily documentable heritage entities) from the planning of photographic and photogrammetric reportage work to its editing, archiving and dissemination. The application of these techniques is profoundly broad, including graphic, pictorial, documentary and planning techniques for reporting, with a broad and holistic sense of technical and professional activity, and giving an understanding of the significance of documentation, broadening the techniques of university education.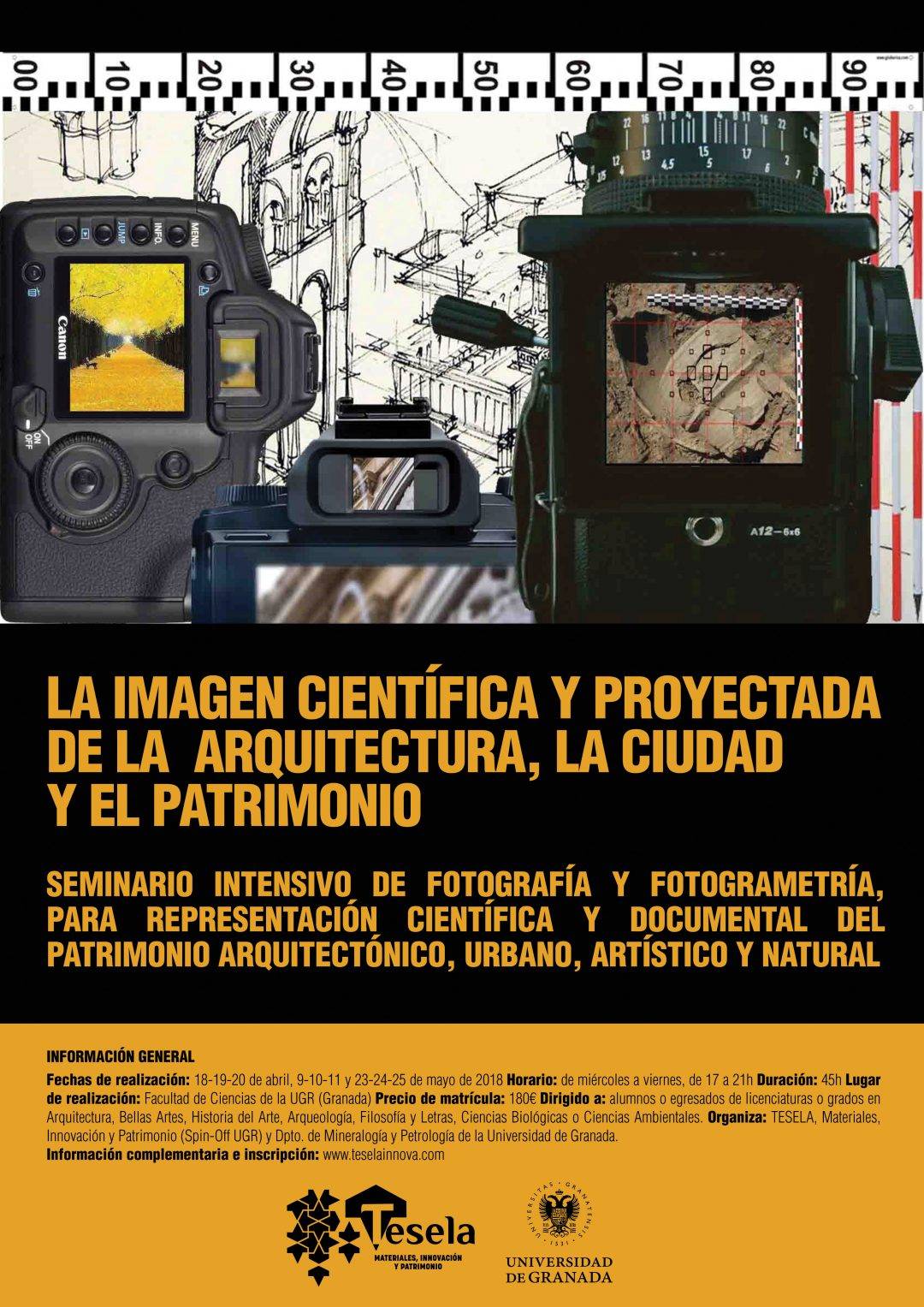 DEGREE OFFERINGS AND COMPATIBILITY
The seminar is structurally specific for students and professionals of Art History, Architecture, Fine Arts, Archaeology, Biological Sciences and Environmental Sciences; for its teaching programs on historical, artistic and natural heritage; and professional competence in it. At present, and with reference to other training methods of the University of Granada, the seminar will offer training in a complementary line to the courses of patrimonial documentalism -very scarce in the UGR- that deal generically with techniques applied to the obtaining and treatment of the image. For this reason, it is a seminar that does not invade competences of other training offers and makes it possible to complement a general training in photography and image with a patrimonial vision, reflected in commercial techniques and applied in other instances.
REQUIREMENTS
This permanent seminar will be especially aimed at students or graduates of undergraduate or graduate degrees in Architecture, Fine Arts, Art History, Archaeology, Philosophy and Letters, Biological Sciences or Environmental Sciences, without the condition of having a DSLR camera (although it is highly recommended, a semi-compact camera with tripod is required) but with a computer for personal work. Basic knowledge of camera operation is required.
CAPACITIES
The professional techniques taught and practiced will be as follows:
– Take complex, non-automatic photographs using manual DSLR modes.
– To plan a parameterized reporting work on heritage elements of all kinds.
– Encode external digital parameterization techniques: Geopositioning, EXIF data.
– Basic sketching and freehand drawing for data collection, measurement and work planning.
– Raw processing and digital image processing.
– Assembly of artificial scenes for exempt elements.
– Reliable colour reproduction.
– Photogrammetry and modeling.
– Architectural Photography.
– Stacking, hyper-focused and studio photography.
– Digitization and gigaphans.
– Advanced photographic criticism.
– Copyrights.
– History of photography and sketching.
– Archiving and management.
See the detailed program of the course
INFORMACIÓN GENERAL
Fechas de realización: 18-19-20 de abril, 9-10-11 y 23-24-25 de mayo de 2018
Horario: de miércoles a viernes, de 17:00 a 21:00
Titulación a expedir: certificado de asistencia sobre consecución de objetivos.
Duración: 45h.
Lugar de realización: Facultad de Ciencias de la UGR (Granada).
Nº máximo de alumnos: 20 alumnos.
Precio de matrícula: 180€
Dirigido a: alumnos o egresados de licenciaturas o grados en Arquitectura, Bellas Artes, Historia del Arte, Arqueología, Filosofía y Letras, Ciencias Biológicas o Ciencias Ambientales.
Organiza: TESELA, Materiales, Innovación y Patrimonio y Dpto. de Mineralogía y Petrología de la Universidad de Granada
Sólo queda para el comienzo del curso:
INFORMACIÓN PARA LA INSCRIPCIÓN
Una vez completado el formulario, para completar la inscripción el alumno deberá, antes de 5 días, hacer el ingreso o transferencia de 180€ en la cuenta de ING DIRECT: ES20 1465 0100 9719 0045 0633 – Organismo: Tesela, Materiales, Innovación y Patrimonio, S.L., y remitir la copia del resguardo de la transferencia preferiblemente por email a la dirección: info@teselainnova.com
Recuerde que si no hace el abono antes de 5 días desde el envío del formulario, su preinscripción se dará de baja, con lo que podría quedarse sin plaza en el curso.
Facultad de Ciencias de la UGR
Avenida de Fuente Nueva, s/n, 18071 Granada